| | |
| --- | --- |
| | |
About *Bask++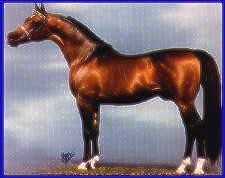 *BASK++ (Witraz x Balalajka) was born February 9, 1956 at Albigowa State Stud in Poland. He arrived in an age when Poland was still rebuilding after the devastating effects of World War II and while Arabian breeding as a state-funded project was still being greatly debated in that country. His sire, WITRAZ, (Ofir x Makata) was a bay stallion born in 1938, a war-baby who managed to survive not only the war, but capture by other nations who were ready to take any horse they could catch back to their borders. His dam, the grey BALALAJKA (Amurath-Sahib x *Iwonka III #3937) born in 1941, who, along with her daughter Arfa, were the only remaining survivors of the war from the entire Krasnica Stud breeding program. This sweet and silky-coated mare was considered to be the most valuable of all the beautiful mares at Albigowa Stud after the war. *Bask++ began his race training in Poland at the age of two. He remained in the racing program for a full four years. Out of 40 races, he placed first eight times, second seven times and was third seven times. While not a top racer, his presence on the track kept him from being sold to a circus, or from going to a less prestigious stud where he might be used to upgrade the local farm horse stock. It was not until he reached the age of six, that he was sent back to stud to be evaluated. Since the Albigowa State Stud had been disbanded, *Bask++ was sent to Janow instead. That move nearly spelled the end for *Bask++. Janow already had many good sons of Witraz at stud, plus sons of Wielki Szlem, whom the Poles considered to be far better looking than the Witraz offspring. *Bask++ was viewed by the officials as having a large, but pretty head, long legs but a shallow chest and a rather immature air about him. There was no doubt he had plenty of animation and spirit, but was it enough to allow him to continue at the stud as a stallion to be used on purebred mares was the question. The question, fortunately, never was answered by the Janow officials. Dr. LaCroix and Mr. Howie Kale, with their teenage sons, were the first Americans to visit the Polish studs since the war had arrived to take a look at exporting some of the famed Polish stock for their own breeding programs back home. Dr. LaCroix and his son, Gene, agreed, one look at *Bask++ was all it took. In an effort to hide his choice, Dr. LaCroix returned to his home in Scottsdale after putting *Bask++ as 18th on his list of 20 or so horses that he and others from the USA were interested in purchasing. Since the Poles were more than willing to sell, the deal was quickly completed, although it would be some months before the horses would arrive in the United States. Despite the delays and the anxiety, one thing remained steady in Dr. LaCroixís mindó*Bask++ would be arriving. The Transatlantic trip was made by cargo ship which encountered some of the worst weather imaginable, with 80 foot waves crashing against the ship for days on end. For at least ten days the horses that made the trip (*Naborr included) were neither fed nor watered. Other than a case of colic, *Bask++ came through it fine, although he had lost about 100 pounds. But despite to long journey, he was as charged up and ready for anything as he ever was. After arrival in the United States, quarantine, and a train trip to Scottsdale, *Bask++ finally was home. It was mid-March 1963. Within days he was being put to mares, and the following year saw *Baskís first foals. The LaCroixís were ecstatic over the quality of those foals.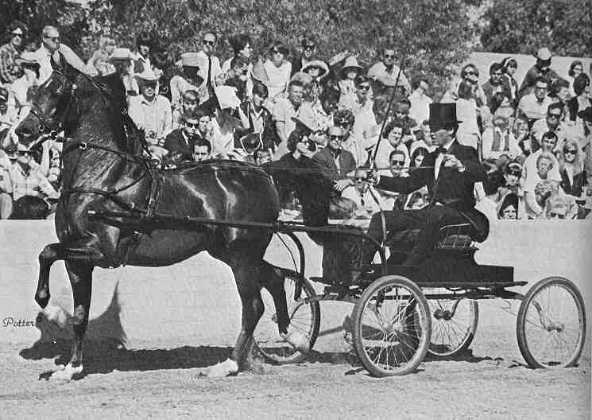 It was 1964 now and *Bask++ was ready to begin his career as a show horse. His first show was, appropriately, the show in Scottsdale. Without trouble, the Polish-bred stallion won not only Champion Stallion honors, but received the Championship in Park (3-gaited), also. These honors earned *Bask++ his picture on the March 1964 issue of Arabian Horse World. Later that year, he was shown at the US Nationals, were he went Top-Ten in Park and received the title of Champion Stallion. It was not until the following year (1965) that *Bask++ won his Championship in Park. He was the first horse to win National Championships in both halter and performance. In only four shows, *Bask++ had qualified for his Legion of Merit. Continuing his show career into 1966, *Bask++ again won the championship in the Park class there. After that he was trained to drive, and, in 1967, he won Reserve Champion at the US Nationals in both Formal Driving and Formal Combination. With that list of impressive wins behind him, *Bask++ retired from the show ring and concentrated on the serious business of putting foals on the ground. Of the 1,045 purebred foals that he sired, many were to mares he bred to more than once. In fact, some mares produced five or more foals by *Bask++. This was the heyday of Arabian breeding, showing and selling. Horses sold for phenomenal prices, and it was well-known that *Bask++ alone was responsible for putting Lasma on the map. His get and grand-get were coveted like precious gems and many people felt they had ëarrivedí if they owned a *Bask++ son, daughter or grand-get of the famous Polish stallion. *Bask++ died at home in Scottsdale on July 24, 1979 during the Canadian Nationals. His daughter, Ambra, won the Canadian National Park Horse championship the next day. Her rider, Gene LaCroix said, we did it for *Bask++ *Baskís stall at Lasma remained empty. No other horse could ever take his place.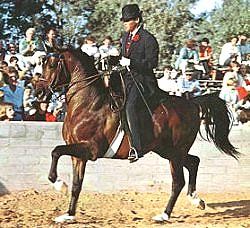 *BASK++ FAST FACTS: Born February 9, 1956 at Albigowa State Stud in Poland
Bay, with star and all four fetlocks
Race Record 4/40(8,7,7)
Registered in PASB in Volume 4-5 page 10
Registered in United States as #25460
Imported 1963 by Dr. Gene LaCroix of Lasma, Scottsdale, AZ
1964 Scottsdale Champion Stallion
1964 Scottsdale Champion Park (3-gaited)
1964 US National Champion Stallion
1964 US National Top-Ten Park
1965 Spokane Reserve Champion Park
1965 US National Champion Park
1965 Legion of Merit
1966 Scottsdale Champion Park
1967 US National Reserve Champion Formal Driving
1967 US National Reserve Champion Formal Combination
Stud fee went from $500 in 1963 to $10,000 in 1975
Died July 24,1979
Sire of 1,045 purebred foals in the United States/Canada
Sire of 1 Half-Arab
Did not sire any foals in Poland
Sire line to Kuhailan-Haifi desertbred stallion imported to Poland 1931
Dam line to Mlecha, desertbred mare imported to Poland 1845
Strain: Kuhaylan-Dajani
Sire of Wisdom, MS Santana, Bomarc, Zodiac Matador, Le Bask+, Baske-Tu, Negatraz, Sunn Bask++, Gdansk, Bask-Tez, Fire Flame, Port Bask, Mi Tosk, Fire Melody, Promotion, First Class, Cognac, Tornado, Ariston, Gwydalyn, Contessa-B+, Hask+ and Barnaby++ to name a very, very few.